Hi everyone!
I've been having lots of fun with little canvases lately! Here's one I've had the background just waiting for some decoration to finish it off. I think that's one of the fab things about Mixed Media work, you can play and get messy creating backgrounds, and finish them later when the mood comes to you.
This is a little 4x6 hard back canvas, I added the background heart and love word using Donna's Love Stencil from Want 2 Scrap. I just positioned the stencil and applied modelling paste, then set it aside to dry.
Next I cut a whole pile of hearts from canvas and adhered these, and it was then that I added the colour. For this one I've used River Mossy, Ice Rink, Wood Stain and Mossy Mist Smooch Spritz.
The butterfly was cut with Donna's Wonderful Wings Die by Spellbinders, then overlaid with matching Bling from Want 2 Scrap. Then I cut lots of flowers using Donna's Bitty Blossoms Die, with matching papers from her 6x6 Natural Beauty and Family Jeans Paper Pads. Once rolled up, I touched the edges with Clearsnap Glue Gloss and then dusted them with Clearsnap Fairy Dust Glitter. The flowers were finished off with Pearl centres from Want 2 Scrap.
Thanks for stopping by today! Until next time, take care of you!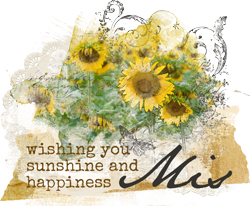 Follow my blog with Bloglovin