Here's another layout I've created using the same background techniques as my "Fun Times Together" layout I posted earlier, but looking different!
click on the image for a larger view
This is my favourite technique at the moment, it helps me use the bolder brighter patterns that I'm not usually comfortable with, but am drawn towards anyway because the colours are simply stunning!
And as always... Green Tara seems to have just the right tones available to suit!
I've tucked in some flat petals under the folds and creases of the paper layers. This may be older lines, and I can remember using them years ago... but for me they have a new lease on life as these tuck in accents. They soften hard edges, fill in gaps and come in so many fabulous colours! They have once again become a mainstay in my scrap stash!
This Gingham Frill Ribbon is such a sweetie... I usually use it to add subtle edges, but I was playing around and thought why not create a bow from it. I love the look of it with it's different textures and how it curls once tied!
I love the combination of peach and mint! The Sakura flower always make such a lovely centrepiece in a cluster...
It's just one of those flowers that's not too big, not too small ad just goes with everything! Above it's accented with flat Petals, a Cherry Blossom and a Rose. And here below it sits beautifully with one of the delicate Poppy flowers!
Thanks for stopping by today... until next time, take care of you!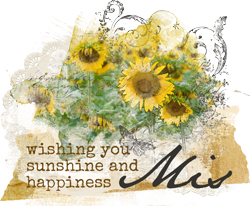 Green Tara Products used:
Sakura 5cm Silk and Pearl Flowers, Coral -
XF9221Cor
Poppy 8cm Organza Flower, Ivory -
XF9212Iv
15mm Gingham Frill, Light Brown/White -
RB317LBW
Follow my blog with Bloglovin