Hi lovelies! Today I have a canvas to share with you!
The quote on here is one that makes me smile each time I see it pop up somewhere on social media, it's just so happy!
I've had fun with this grungy style background... book paper layers, stencilled pattern and loads of earthy colour. First I've torn pages from an old book and adhered them with a matt gel medium. I've then added some iddy hearts stencilled with a mini stencil and texture paste and overlayed some of Donna's new Burlap Ribbon and Lace Ribbon from Scrapbook Adhesives by 3L. This too was adhered with gel medium.
The butterflies were cut out of denim offcuts using Donna's Wonderful Wings Die by Spellbinders. These were adhered with gel medium and once all dried, layers of colours were added. I've used Clearsnap's Mix'd Media Inx in Truffle, Honey, Denim and Indigo, as well as Smooch Spritz in Caramel Latte, Pralines & Cream and Sea Breeze.
These little scrolls are fabulous! They are Donna's new 3D Foam Swirls from Scrapbook Adhesives by 3L. So very practical and easy to use! I've sprinkled Clearsnap Twinkle Dust Glitter in Pralines & Cream onto them, and then used iddy drops of Mix'd Media Inx Reinkers in Denim and Indigo to add deeper colour.
I've made my wild roses using Donna's Rose Creations Die, this time I've cut a couple from plain white cardstock and then coloured them afterwards. One with Pralines & Cream Smooch Spritz and the other with a watered down mix of River Mossy and Ice Rink The Smooch Spritzes blend well! I've touched the edges with Truffle Mix'd Media Inx.
And I've also cut some smaller flowers from some of Donna's patterned papers I still have in my stash using her Bitty Blossoms Die. And finally, after all these years, I can almost make them as fast as Donna can in slow motion LOL!!
I decided to add some interest to the edges of the canvas as well so have used larger chipboard letters to spell out Awesome & Bombdiggity up the sides and across the top... just something unexpected, like the quote is itself!
Thanks for stopping by! I hope you've like my canvas today... and I hope the little quote made you smile like it does me!
Donna Salazar Products used:
Scrapbook Adhesives by 3L
Burlap Ribbon
Lace Ribbon
3D Foam Swirls
Clearsnap
Mix'd Media Inx - Truffle, Honey, Indigo, Denim
Mix'd Media Inx Reinkers - Denim, Indigo
Smooch Spritz - Caramel Latte, Pralines and Cream, River Mossy, Sea Breeze
Twinkle Dust Glitter - Pralines and Cream
Spellbinders
Rose Creations Die
Bitty Blossoms Die
Wonderful Wings Die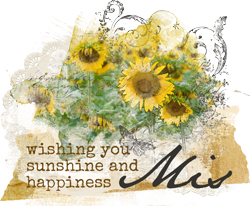 Follow my blog with Bloglovin