Hi everyone, today I have a little 8x10 layout to share with you! This one is of a favourite photo from when I was in New York... I was so very happy there, loved that city and loved one very special person I got to meet while there.
Today I have used Donna's Mix'd Media Inx, not only to stamp, but also to alter the colour of a flower, some ribbon and to make some 'ink' splotches.
It was so easy to do with the reinker, just a few drop with some water in a small mister bottle or dropper bottle and you have your own perfectly matched colour spray. If you don't have the re-inker, then the ink pads are definitely juicy enough to blot onto a craft sheet and add some water. The wonderfully pigmented ink creates colour that goes a long way!
Thanks for stopping by today! See you again soon...
DSD Products used:
Clearsnap - Mix'd Media Inx {Indigo, Stormy, Denim} | Mix'd Media Inx ReInker {Indigo} | Twinkle Dust Glitter {Sugar Shimmer} | Glue Gloss
Spellbinders Dies - Rose Creations | Wonderful Wings | Shadow Flowers
Art Gone Wild Stamps - Banner and Words | All My Love
Other:
Maja Design Patterned Papers
Paper Flowers, Gauze
Denim, Ribbon, Jewellery Findings, Tag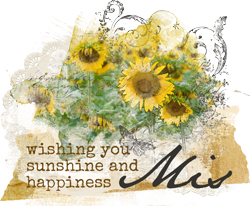 Follow my blog with Bloglovin