Hi lovely people!! A few weeks ago I shared a link across to Donna Salazar's blog for my "Create" Art Journal Cover... here's the full reveal for you here also!
These hinged ring bound albums are perfect, the denim cover is lined inside with kraft to match the pages and the pages themselves are thick and chunky, so they are perfect for coping with whatever you want to throw on them!
For the cover I have used my favourite embellishments - cogs, butterflies, denim offcuts and lace ribbon! Cogs are always gorgeously grungy, butterflies are almost essential on my work as is lace ribbon. The canvas butterfly was cut from Donna's Canvas Ribbon from Scrapbook Adhesives by 3L using one of the Wonderful Wings Dies from Spellbinders.
To start the cover I adhered some old book paper with gel medium and then painted on some clear and white gesso over top. I've then added a strip of denim cuff offcut and the chipboard cogs. Next some more white gesso. I use a palette knife for the gesso, I like the effect of it as compared to a paint brush. The colour is layers of Mix'd Media Inx Re-Inker and Smooch Spritz sprays. Add some glitter to the 3D Foam Swirls then some Mix'd Media Inx overtop! The alpha letters were inked and then glittered with Twinkle Dust Glitter. A great way to adhere this is with Clearsnap's Glue Gloss, it's an easy way to get glue in just the right place, with no mess.
I can't wait to create many messy girly grunge pages in this journal, I promise to share as I create!
DSD Products used:
Scrapbook Adhesives by 3L
Denim Art Journal
Canvas Ribbon
Lace Ribbon
3D Foam Swirls
Clearsnap/Colorbox
Mix'd Media Inx - Denim, Wisteria
Mix'd Media Ink ReInkers - Denim, Wisteria
Smooch Spritz - Mixed Berries, Caramel Latte, Sea Breeze
Twinkle Dust Glitter - Mixed Berries
Glue Gloss
Other Products:
Denim Offcuts
Vintage Book Paper
Chipboard Alphas and Cogs
3D Matte Gel
White Gesso, Clear Gesso
Thanks for stopping by today! M xo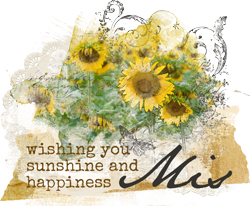 Follow my blog with Bloglovin