Hi lovelies... it's been a while I know, life tends to run away with me these days, or is it it runs away and leaves me behind LOL! Either way, getting my groove on has proven a little harder. However this weekend I was able to slot away some "don't have to do nothing you don't wanna" time and I found I got my Girlie Grunge happening! Yayyyy!
This layout features myself with a fabulous woman I have been friends with for years. We met in an online forum, and then shortly afterwards in real life. We used to spend lots of time together, and these days not so much... but we're still good friends, and she's one of the few people I trust with all my heart. She's funny and silly and real... and true. Love you Dizz!
I've cut some petals with Donna's Rose Creations Die from Spellbinders to create my Worn Roses.
The pale pink one above was cut using just white cardstock and then inked with Chiffon Mix'd Media Inx from Clearsnap. The brown one below was cut from some paper from Donna's Natural Beauty Collection and it too was inked, this time with some Truffle Mix'd Media Inx.
I love textiles on my work, the butterfly below was cut from Canvas using Donna's Wonderful Wings die by Spellbinders. I then created a pool of colour using Chiffon Mix'd Media Inx ReInker and water, and dipped the butterflies in randomly so they weren't coloured all over.
Lastly, the part I love so much... I added Twinkle Dust Glitter to the flowers and butterflies. I love glitter, it would be rare to see me not covered in it after a scrappy weekend! I usually add the glitter right near the end, no idea why this works for me. Clearsnap's Glue Gloss makes it easy, just touch the gloss where you want the glitter, sprinkle the glitter and it's done!
Thanks for stopping by today, I hope to see you again soon!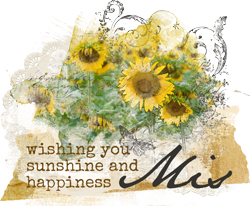 Follow my blog with Bloglovin