I had a wonderful collection of Pink flowers left on my desk from when I created yesterday's layout, so thought I'd create a cute little OTP Bird House from Dusty Attic with them.
This gorgeous silver charm is from Handmade Halo... it was made for this I'm sure!
This time I have used one of Green Tara's PinCushion Flowers as well and popped a Primula in the centre. I carefully removed the beaded centre so the Primula would sit flat. The cute centre will create a nice embie on it's own so I've put that away for later.
I trimmed some of the Lace to create a little 'eave' border on the house. This lace is really versatile and if trimmed can hold it's shape.
Finally I finished the Bird House off with a Polka Dot Organza bow. This organza is so soft and delicate, it adds that sweet gentleness to girly work!
Thanks so much for stopping by today.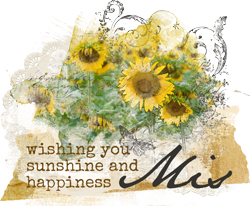 Products used:

Papers:
Pion, KCo
Flowers:
4cm Heirloom Flowers - Pale Pink
XF9317PP
6.5cm Heirloom Flowers - Pale Pink
XF9213PP
2cm Silk Flowers with Swarovski Crystals - Pale Pink
SDPPS60
3cm Silk Flowers with Swarovski Crystals - Pale Pink
SDPPL60
3cm Silk Flowers with Swarovski Crystals
SDDPL60
Trims:
Other:
Dusty Attic Bird House
Handmade Halo
Antique Silver
- Chattering Trio