Hi again lovelies! I have a layout to share with you that I've created for Tomorrow's Memories. Today I'm showcasing some of the gorgeous new butterfly charms that are in stock now, as well as some new chipboard from My Creative Wings.
The beautiful young lady here is the daughter of my friend Natasha. She's such a sweet child and growing so fast as they do. She's changed so much already from the time I met her, I imagine she'll be so different again by the time I get back to the states!
So, there were 3 different butterfly charms used for this layout. I adore them all but the twin layer one is stunning. I treated the chipboard swirls and the charms similarly. Both were spray painted with flat white acrylic paint and let dry. Next they were coloured with alcohol ink. On the chipboard I blended the colours together with a blender pen, whereas the metal I gave it another spray of paint, which toned the colours down. As a final touch I dusted them all with glitter.
The "sweet" chippy is from Dusty Attic, this one was treated a little differently as I wanted the colours to stand out a little more from the subtle background. It was spray painted white, then inked with Stormy & Peridot Mix'd Media Inx. This too was dusted with glitter once dry.
The lovely flowers were dry brushed with white gesso to tone them back a little more, creating a lovely pastel bouquet!
Thanks for visiting today.
You can see this layout in at Tomorrow's Memories. They also always have fabulous stocks of charms, in all kinds of designs... so there will be something that is just right for your project.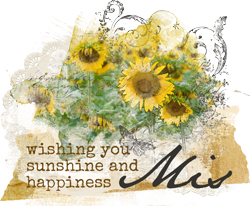 Follow my blog with Bloglovin