Hi everyone! Today I have a new reverse canvas to share with you... I created this while in Mackay with Michelle, it was such fun to draw on each others creativity again.
I haven't used masses of Green Tara flowers on this one, I preferred the lovely simplicity of just using a few... and allowing the wonderfully earthy Natural Jute Ribbon to feature. This ribbon is one of my faves, it's versatile and holds it shape well.
This time I experimented with it, to see what else it could handle. One bow was added before I sprayed all the colour and it held the colour well. Then I hit it with the heat gun. The fibres are held together with the finest synthetic threads, which melted, creating a fabulous effect - lots of fun!
I have used white Cherry Blossoms and Roses for this one, tucking a few on small clusters here and there.
Some of the flowers were added before the final colour spray, which has given them a slightly antiqued look. A few others were added once the canvas was finished to give a pop of fresh white.
The Dusty Attic chipboard was added raw, all the colours was added in the colour wash. Once dried parts of the chipboard was highlighted with Inka-Gold rub. This is a wonderfully versatile metallic rub, which doesn't smell and comes off your hands easily with a baby wipe. It can also be watered down to use in alternate ways.
The background of this one is layers of corrugated board, printed napkins and patterned paper offcuts. They were then coated randomly with a thin coat of texture paste and set aside to dry. Once dried I dribbled some green and brown acrylic paint down from the top of the canvas and blended them with a palette knife before adding layers of colour sprays.
Once the canvas was finished, I added a thick layer of Dusty Attic Clear Gloss and Clear Crackle to the background and put it aside for a day to dry.
Green Tara Products used: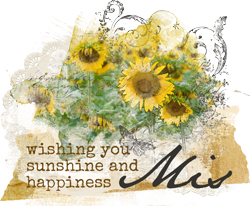 Follow my blog with Bloglovin