A layout close to my heart of 3 beautiful women who own and run the place I call my second home - Clori, Vicki and Jo of Tomorrow's Memories.
The stamping in the background was done with a watercolour technique... I love the muted effect. There's a how to in the magazine!
I've hand-dyed the trim to match the inks and papers here... so easy to do with the inks and colour sprays available on the market these days. I have to confess with the flowers... they have been recycled from a layout that was damaged, I think they look much better here though, sometimes things happen for a reason!
Look at those gorgeous women... they all have hearts of gold and I am truly blessed to know each of them!
Thanks for stopping by today!!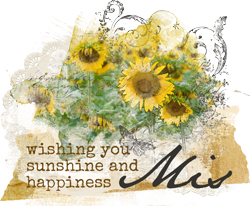 Follow my blog with Bloglovin