Hi everyone! Today I have a little art canvas to share with you... I created this while I was procrastinating making something else, thinking it was supposed to happen that way!
[click on the image for larger view]
I have used Want 2 Scrap stencils with Texture Paste to created the brick wall background and layered it with loads of colour.
I've cut some butterflies from Want 2 Scrap canvas, coloured them and added matching Bling to give them loads of wow factor.
I've made some flowers with the Mulberry Paper from the Mix'd Media Stax 2. I love the different effect using the Mulberry has instead of using plain patterned papers. I have wet them after cutting and shaping them and the water made the paper soften even more and create this felt like look.
I've also cut some shadow flowers from mulberry paper which I've coloured with smooch spritz, they add a soft contrast with the bricks.
I hope you like what I have created... I had lots of fun making a mess with this one! I have a step by step tutorial also for you on how I created the background, and how to utilise all the left over colour.
The link links across to Box.net where you'll be able to preview and download the PDF.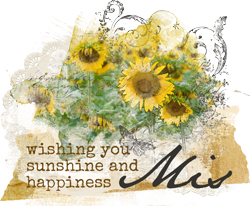 Follow my blog with Bloglovin
Products Used:
Papers:
GCD Studios Mix'd Media Stax 2 - Mulberry Paper
Chipboard:
GCD Studios Chipboard Alphas - Fun and Funky
Colour:
Clearsnap Smooch Spritz - River Mossy, Green Olive, Sea Kiss, Sea Breeze
Bling:
Want 2 Scrap Wonderful Wings Bling
Want 2 Scrap B.Y.O.B
Dies:
Spellbinders Wonderful Wings, Rose Creations, Bitty Blossoms, Shadow Flowers
Stencils:
Want 2 Scrap Brick Wall Stencil
Flowers:
Green Tara Roses, Cherry Blossoms
Other:
Zutter 5x7' Canvas Art Board
Want 2 Scrap Canvas
Green Tara Polka Dot Organza Ribbon
Jo Sonya Texture Paste