Hi everyone! Today I have another reverse Canvas to share with you. I'm so very pleased with how this one turned out!!
[click on the image for a larger view]
It's a little deep edge 8x10 Canvas, which I'm finding is just the perfect size... a Goldilocks moment, not too big, not too small! I have drawn upon some things I've learned from Linda Baldock's flooded canvas classes to create this; using impasto on the frame, flooding it with loads of colour sprays and then instead of sealing it all in resin, I've added a coating of clear gloss varnish and crackle varnish to the background, allowing the flowers to sit on top.
And of course... it's been smothered with gorgeous Green Tara Flowers, Ribbons, Lace and Trims!
I have used almost every flower in my stash that matched on this one. Cherry Blossoms, Damask, Roses, Silk with Swarovski Crystals, Primulas and Heirloom Flowers. I've also used Lace, Polka Dot Organza Ribbon, Bows and some Silver Diamante Trim... all that on this little canvas!
I've added a quote to the inside edge of the frame... I like that it's not so obvious there, like a surprise for people who take the time to look at it. For this one I've used "Time to create" said her Heart. "It's about time" replied her soul. I thought it was fitting as this messy free creating is something I've been missing, just didn't realise I was... my soul took a sight of relief once I started spraying this canvas with colour!
As well as all the flowers, I've added a bow made from Polka Dot Organza... it has been caught in the gloss varnished background and appears to 'float', love it!
I've also used Lace Trim in the background, and set it with some Impasto and dragged the Impasto down along the left edge... I love the different colours that come through when they react to the difference base mediums such as the canvas, the lace and the impasto.
The wrapped canvas has had some staples removed and the canvas push back. Once the Impasto and colours are dried I've rubbed some Old Silver Metallic Rub over to pick up all the wonderful textures!
The locket was given to me by one of my sweet friends... is was just that last perfect thing it needed! I've popped the word "soul" onto the top of the frame instead of the inside so that it relates with the heart... creating the "Heart and Soul" title for this piece.
Green Tara Products used:
Flowers
:
1.5cm Roses, White -
FDR003Wh
2cm Roses, White -
FDR006Wh
2cm Roses, Mint -
FDR009Mi
3cm Roses, Turquoise -
FDR024Tu
Cherry Blossoms, 2 Toned Sea Green -
FLC22SG
Silk Flowers with Swarovski Crystal Centres - 3cm, White -
SDWhL
Damask 8cm, Aqua -
XF9225Aq
Heirloom 6.5cm, Grey Blue -
XF9213GB
Heirloom 4cm, Grey Blue -
XF9317GB
Primula, Turquoise -
XF9325Tu
Trims:
10cm OffWhite Lace -
L3042OW
10mm Round Silver Diamante Trim -
RBY28
38mm White Polka Dot Organza Ribbon -
RBB221Wh
Other
:
2cm Bows, White -
BowWh
Other Products used:
Mont Marte Impasto
Clearsnap Smooch Spritz - River Mossy, Ice Rink, Spun Sugar
Dusty in Colour - Clear Gloss Varnish, Clear Crackle Varnish
Vivo Inka-Gold - Old Silver
Silver Charms, Trinkets
Prima Resin Birds
Handmade Halo Trinkets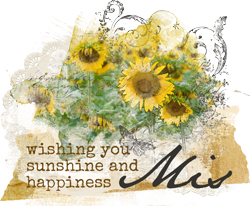 Follow my blog with Bloglovin