OK.. now how cute and funky is the new Tropical Punch Collection from Kaisercraft! It's bright and fun, a little bit edgy, a little bit shabby... love it!!
Love this cute pic of Mel with her little birthday cake she had at Tomorrow's Memories... it looks like she's peeking out from under the banner!
This range needed me to create a little ruffle... or two!
And it needed a fabulously bright bouquet of Paper Blooms...
Love it!
To see more Tropical Punch Inspiration, pop on across to the Kaisercraft Blog -
HERE
I'll be back in a couple of hours to share my cute little card I created!
Kaisercraft products used:
Tropical Punch Mocktail P1647, Sunny P1642, Fun Times P1643, Party P1646, Cocktail P1639 | Collectables CT808 | Sticker Sheet SS258 | Paper Blooms – Hot Pink F663, Coconut F627, Olive F633 | Mini Paper Blooms – Fire Red F669 | Premium Cardstock – Red CD608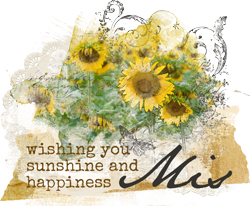 Follow my blog with Bloglovin