Hiya everyone! I found this photo somewhere on the net, either Pinterest or Facebook, and was moved by it. The books wrapped in scrap paper, the pretty flowers, the gorgeous colours! So it had to be scrapped.. I'm going to frame this one and use it as decoration in my scrap room.
It's a simple design, but the patterns in the paper, and all these gorgeous flowers, ribbons and lace from Green Tara make it look just right!
I've used polka dot organza and the herringbone ribbon to create 2 bows. I love bows, especially on soft feminine layouts!
These Batik Vintage Asters were the perfect shades to match the papers and the photo... how sweet are they!?! I love the green stamen centres on these as well as the mottled pattern on the petals.
I've tucked in some cherry blossoms and white roses with the asters and layered some petals to tuck in under the cluster edges. I've also folded over some little offcuts of the polka dot organza and herringbone ribbons to make little 'tabs', which I have tucked in under my photo and paper layers to add interest.
Thanks for visiting, until next time... take care of you!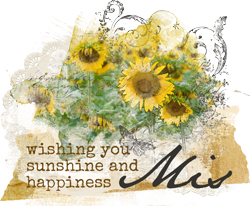 Follow my blog with Bloglovin
Green Tara Products used:
20mm Herringbone Ribbon, Dusky Pink
RB405DP