Hi lovelies! Today I have a little bit of sunshine to share with you. The theme for my blog this year is sunflowers, to help bring a little shine to my life, but somehow they are also making into my scraproom, which is a great thing!!
I snapped a photo of one of my 'fake' sunflowers and popped it on Instagram and thought why not scrap it. I love this deep yellow and thought it would make a fun change in colour to scrap.
When looking through my Green Tara stash I found this rather 'out there' wired orange organza ribbon with green and yellow flowers, and knew right away I had to use it for this layout, isn't it fabulous!! Softened with a sweet bow of white polka dot organza it really has become a wonderful feature on my page.
I have layered some 10cm Petals which I have trimmed in half first, White Petals, Gardenias and sweet little Yellow Roses to create a couple of sweet bouquets of flowers! The Petals have very quickly become a new favourite of mine, proving that nothing in scrapping truly is 'old', everything can be used again in different ways, a great product is always a great product!
I've also tucked in some velvet leaves to add a little more luxury and some sweet little bows. These bows are ready made and are soooo iddy tiny, I couldn't tie them that small myself if I tried!
Thanks for visiting today... I hope this has brought a little bit of sunshine your way also!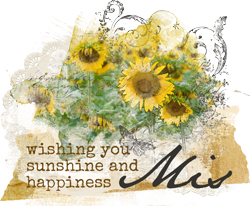 Follow my blog with Bloglovin
Green Tara Products used:
38mm Organa Flower Wire Edged Ribbon, Orange/Green/Yellow
RB326OGY