Hi everyone! Today I have a sweet girly layout to share with you of my niece Lily. She's a social butterfly this one, always the chatterbox... I simply adore her!
[click on the image for a larger view]
I've used a whole pile of Donna's Natural Beauty papers for this one... all those lovely pinky tones, perfect for a feminine page.
I even tackled the Bitty Blossoms, yes 'tackled'... we don't get along so well, likely because they are sweet and neat and I'm a messy grungy girl LOL! But, really... they are such an easy peasy die to use, and this page needed those flowers to smooth off my grungy Rose Creations ones. I have to admit, I'm pretty pleased with them, especially with the sweet Pearl centers!
I still made my smooshed Wild Roses as well... I really got the layers soaked this time and they are a little more tattered than usual, love it!!
I made a double ruffle with some of the paper offcuts... love all the handmade elements on this page!
I have used one of Donna's fabulous new Stencils from Want2Scrap... the little hearts were so so sweet I couldn't resist! I have used texture paste over the stencil and once dried sprayed with TeaParty Smooch Spritz which I also tinted with a little Chiffon Mix'd Media Inx ReInker.
And finally finished the layout off with Donna's chipboard alphas, which I left just as is!
Thanks for stopping by today... until next time, take care of you!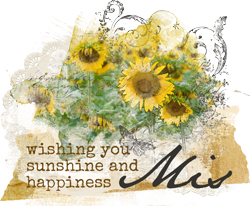 Follow my blog with Bloglovin
Products used:
Patterned Paper:
GCD Studios Natural Beauty - Rosey, Twiggy, Nancy's Mushrooms
GCD Studios Natural Beauty - 6x6 Paper Pad
Chipboard:
GCD Studios Alphabet Chipboard Stickers - Natural Beauty
Colour:
Clearsnap Smooch Spritz - TeaParty
Clearsnap Mix'd Media Inx ReInker - Chiffon
Dies:
Spellbinders Dies - Rose Creations, Bitty Blossoms, Romantic Rectangles
Stencils:
Want2Scrap Heart Stencil
Other:
GCD Studios Natural Beauty Cardstock Diecut Shapes
Want2Scrap 8x10 Corrugated Board
Want2Scrap Self Adhesive Pearls - LeCreme
Kaiser Mini Paper Blooms
Handmade Halo Trinket and Resin
Self Adhesive Epoxy Pebbles
White Self Adhesive Crochet Trim
Alacraft White Crochet Trim
DMC Perle Embroidery Cotton