Our gorgeous goddaughter stopped with us a few days on her way down south, and again on her way back home, and as always it was so wonderful to see her. Unfortunately like all 16yo girls, trying to get a photo of her is near impossible, so when I get some they become my treasures!
This layout was a quick snap of Kel and her… Kel as always being a total goose, and Courtney trying her best to tolerate him.
"Love these Two"
Click Image for a Full View
I adore this Sage Satin Rosette, the colour is most divine and was perfect for the papers. I felt the shape of it also would be a lovely compliment to the Sprightly Sprockets I've used on the layout.
The white flower clusters soften the sprocket clusters...
I have used the Flat Petals under the flowers and sprockets as it emulates the teeth on the cogs...
The "Love" is a wood veneer laser cut, I spray painted it white and then coated with with Fairy Dust Glitter.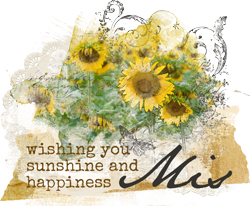 Follow my blog with Bloglovin
Green Tara Products Used:
Flowers
Primula 4.5cm, White - XF9325WH
Cherry Blossoms, White - FLC22WH
Satin Rosette, Sage - XF9330SA
22 Petals Pack - P22WH
Trim