I started this layout wayyyy back in February this year… and I just couldn't quite get it happening. This weekend gone I pulled it out again and it all came together so easily. Just goes to show that sometimes it's best to just walk away and try again later!
"Tranquility"
Click Image for Full View
The one part of the layout that was working for me were the Green Tara flowers. I had chosen my favourite Cherry Blossoms, Sakura, flat Petals, Roses and a Moss Wild Rose.
The White Flower Lace Ribbon helped add just that little more white to balance the layout. This lace is very versatile, it can be layered, used as is or cut up to add tiny accents.
Green Tara Products Used:
Flowers
Roses 3cm, White - FDR024WH
Cherry Blossoms, White - FLC22WH
Wild Rose 7cm, Moss - XF9318MO
Sakura 5cm, White - XF9221WH
22 Petals Pack, White - P22WH
Trim
Lace Ribbon, White Flower - RB6813WH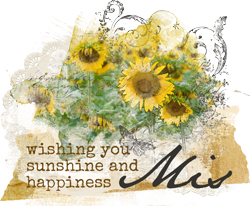 Follow my blog with Bloglovin