I am loving the papers by designer Marion Smith... they are so perfect for me! Grungy, yet pretty, vintagey yet modern... and they have all these fabulous bits you can cut out! These papers, and the iddy little resin teapot I found in my stash inspired me to create a layout featuring my Grandmothers Tea Set.
I really love these sweet little resin shapes... they were white, but they've been painted with Black Gesso and touched with Jasmine and Peridot Mix'd Media Inx.
The little chipboard banner was given the same treatment, with some shading using a black and a white gel pen to give it more definition.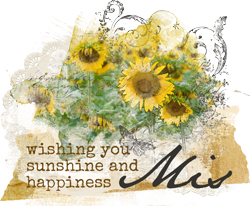 Follow my blog with Bloglovin