And today I'm back to girly, because I can't help myself! This little reverse canvas uses the Collectables from the Be-YOU-tiful range. I'm really loving how much fun they are to use.
You know how some of the flowers in Kaisercraft's Paper Blooms come with the petals folded under, below shows a good example of how they look with the petals unfolded and 'fluffed' out. I love that the look can be changed so easily!
I used the same technique to create the canvas texture as I did
HERE
, yep... I love that crackle texture!
Thanks for visiting today!
Kaisercraft Products: CT800 Collectables | FL372 Flourish Pack – Small Birdcages | F657 Mini Paper Blooms – Fairy Floss, F640 Paper Blooms – Fairy Floss, F627 Paper Blooms – Coconut | RS408 Sparklets – Crystal
Other: Canvas, Textured Crackle Paste, Paint, Ribbon, Crochet Trim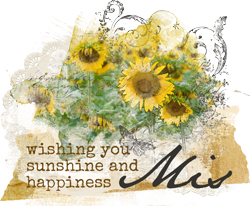 Follow my blog with Bloglovin