My very first posts for Kaisercraft are up on their blog! How very exciting it is to be a part of this fabulous team!! I'll share my work here individually this week, because there's lots... I certainly had myself some fun!
This range I thought was so 'just right' for a baby range, still a little out of my comfort zone though, simply because I think I have only scrapped 2 or 3 'baby' layouts. But as always, with Kaisercraft papers being so beautifully co-ordinated it was a breeze!
This is my now almost 18 year old when he was a little one... he was soooo cute!!
I inked some little word phrases with Peridot Mix'd Media Inx to help them blend in with the papers. The new Kaiser alpha stickers are simply perfect for small titles and phrases. I left the wooden embellishments raw for this one, the veneer look being so popular now, but also it was just the perfect shade I needed to work with the photos.
The Sage Blossoms were a perfect match for this range... and being a baby layout, I was 'allowed' to use them! Kel would be mortified if I used flowers on a layout I did of him now with flowers on it!
The Hexagon pattern was screaming to be cut out, so I cut some out as individuals and some as blocks or strips. I've raised the individual ones to add interest and depth to the pattern.
Thanks for stopping by... later today I will share with you the Baby Girl Canvas I created!
Kaisercraft Products: P1551 Tiny Bundle, P1554 Little Feet, P1548 Little One | PP942 Paper Pad | RS408 Sparklets – Crystal | FL440 Flourish Pack – Hearts | F649 Mini Paper Blooms – Sage, F644 Mini Paper Blooms – Coconut, F632 Paper Blooms – Sage | AS251 Alpha Stickers – Ebony
Other: Cardstock, Gauze, Vintage Doilies, Word Stickers, Peridot Ink, Embroidery Thread, Foam Tape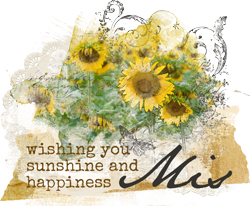 Follow my blog with Bloglovin