More beautiful Be-YOU-tiful elements here this afternoon! This sweet little frame uses a sheet from the 6.5x6.5" Paper Pad and a tag form the Collectables Pack as a quote.

I love these nests so much, and the just right eggs that fit them perfectly. I cut the nest in half for this one to help it sit flush against the frame. Means I have another half to use elsewhere!
Thanks again for stopping by... I'll have the last of my Be-YOU-tiful shares for you later today!
Kaisercraft Products: PP943 Paper Pad | CT800 Collectables | F644 Mini Paper Blooms – Coconut, F657 Mini Paper Blooms – Fairy Floss, Mini Paper Blooms – Sage, F627 Paper Blooms – Coconut, F640 Paper Blooms – Fairy Floss, F632 Paper Blooms – Sage | RS475 Rhinestone Flourish – Ice | EM997 Decorative Nests | EM996 Decorative Eggs
Other: Gauze, Crackle Texture Paste, Colour Spray, Vintage Doily, Ink, Embossing Powder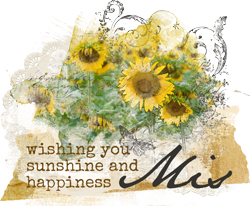 Follow my blog with Bloglovin